Pin It
The third film by
CRISTI PUIU
,
Aurora
, a thriller told from an unusual perspective, will probably be premiered in Cannes. The film tells the day of Viorel, a middle-aged man who wakes up with a strange feeling of anxiety but represses it trying to live the usual commitments that take him around Bucharest. Cristi Puiu has decided to play the role himself, after five months of auditions and had to get a license just for acting. Aurora is produced by Mandragora with Société Parisienne de Production, Switzerland Bord Cadre Films and the German company Essential Filmproduktion GmbH.
Aurora

is the second part of a cycle of six films on Bucharest. The first,

MOARTEA DOMNULUI LĀZĀRESCU

(

The Death of Mr. Lazarescu

) dated back to 2005 and was photographing a city more like a circle of hell than to a European capital. H
ere it is the plot of the film: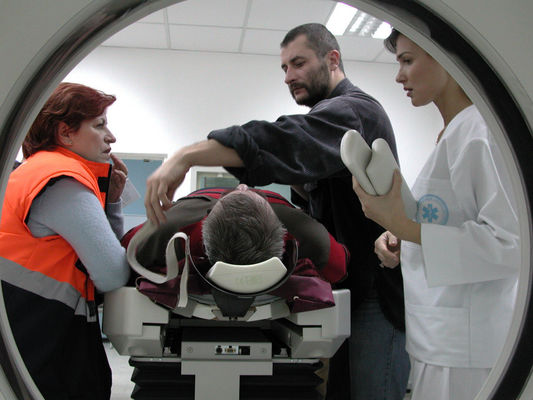 Mr. Lazarescu is 63 years old and lives in a block of flats, together with his three cats. It's a Saturday evening, Mr. Lazarescu doesn't fell too well, so he calls for the ambulance. Until the paramedics arrive, he tries to ease the pain with something from his own supply of medecins. Because he is short of the pills he needs, he asks for his neighbours'help. They give him the first aid, although they can smell he's been drinking. Then the ambulance and Mrs. Mioara, the paramedic, arrive. She decides to take him to the hospital. But things get complicated at the hospital. A car crash with lots of casualties is the priority for the doctors in the ER. Mr. Lazarescu is send to another hospital. What looked initially like a simple formality, the admission to the hospital and the monitoring of an old man, turns into a nightmare. As the night develops, Mioara drives around Bucharest, trying to find a hospital that will accept the patient, whose health is deteriorating at an alarming rate.
The film won the "Un Certain Regard" Award at Cannes Film Festival. About his film, Puiu said:
'Since I admire Eric Rohmer very much, I wanted to answer his
Moral Tales
. With six stories from the outskirts of Bucharest I will be telling love stories: love for one's fellow man, love between a man and a woman, love for your children, love of success, love between friends and carnal love'.
Cristi Puiu
was born in Bucharest in 1967. In 1990, after the fall of Communism, he left Rumania for Switzerland. Two years later he enrolled in Visual Art High School in Geneva. In 1995 his short film
Avant le petit déjeuner
, made while he was still a student, was selected at the Locarno Film Festival. He gained his diploma in 1996 with a documentary film. He wrote the screenplay for
Marfa si banii
together Rāzvan Rādulescu, and the film won a competition organized by the National Film Centre in Bucharest. In 2003 his short
Un cartus de kent si un pachet de cafea
was awarded at the Berlin Film Festival.
The Death of Mr. Lazarescu

(2005) won the "Un Certain Regard" Award at Cannes Film Festival.